Discover more from The Harvesting Revolution
Get ready for great reads, community news on energy harvesting tech, informative learning content, and interviews.
Almost outside
The Harvesting Revolution #3
This is already the third number of the The Harvesting Revolution. You are more and more to subscribe and you are also increasingly reading us, more than 350 for the last one.
Today, we are speaking about powering IoT in indoor application, the timing is good because we are still restricted inside but good news there are only few days left of lockdown.
💡 LEARNING CONTENT
Redifinning "objets connectés" [Content in french].
It's always good to remember the basics. This article is really clear and well written from the ecosystem IoT Valley. It separetely redifines Connected Devices and Internet of Things (IoT).
Why OPV is one of the most suitable technology to power IoT ?
Billions of IoT devices are expected to be installed over the coming years with almost half of them connected inside buildings. Currently, the use of batteries to power these devices places significant constraints on this development.
Photovoltaic energy harvesting, which is the conversion of light into electrical energy, is the most common method of harvesting energy and is now a well-estabilished technology. The amount of energy harvested depends on the intensity and spectral content of the light falling on the surface of the solar cell, the incident angle of the light, and the size, sensitivity, temperature, and type of solar cells used. There are two categories of solar cells available in the market… [Read more]
🎙
INTERVIEW // Robert Poser - Director of Product Management @ Plastic Logic
Hi Robert, thanks for coming during this complicated period. Hope you are doing well as the whole Plastic Logic team.
Hallo! Yes we are doing ok. Most of us now work remotely from home, that's fine as long as there is no prototyping in the lab scheduled.
Could you introduce yourself and your function for Plastic Logic?
I am working at Plastic Logic in Dresden/Germany since 2008 in different positions: During start of the production I supported the technology development as reliability engineer. Since the process qualification I am concentrating on the application side, and since 2019 I am Director of Product Management.
And what about the Plastic Logic purpose?
Plastic Logic developed in the past years an exciting technology around organic TFTs (OTFTs) on different (flexible) substrates. Based on this process the company offers glass-free E-Paper displays of various sizes. Today this process offers a robust alternative to a:Si based TFT backplanes, with similar or better mobility and higher mechanical robustness. They screens are significantly lighter and can be curved or be bend repeatedly. Plastic Logic also offers custom display designs to its customers, the shapes can have almost free formfactors and include holes or openings of different shapes in the display center.
Which kind of market are you addressing?
Plastic Logic is focusing on markets where glass-based devices can't be used or can only be used with limitations: Wearables, smart cards and badges, e-Notes and digital signage. Within these markets we focus on customers with demand for low power requirements and/or long battery lifetime.
Why did you initiate some development in order to set an autonomous E-Paper device?
E-Paper displays need power only when the screen content is changing, to keep its content visible there is no power needed. For this reason, the necessary energy is really low for applications with only a few updates per day. Additionally, we developed several software and hardware options to further reduce the power consumption during the image updates. In the best case we could show an energy reduction of -75% compared to a default image update.
This low energy budget now enables us to start thinking about battery-free and energy-autarky solutions… not only for sensors- but also for display-based devices. This approach would eliminate the need for replacing and disposing coin cells or recharging batteries. Even a battery lifetime of some years adds significant cost of ownership when exchanging of the power source is needed especially in the context of the expected further growing number of connected devices.
And why did you focus on photovoltaic?
E-Paper screens (EPDs) are a reflective technology and rely on external light sources... There is no reading without -at least some- light. Therefore we think combining PV cells and EPDs is a nearby combination. Harvesting light can provide a sustainable alternative for coin cell swapping or battery recharging. Photovoltaics of the third generation, like provided by Dracula Technologies share with PL the principles of a flexible substrate, an encapsulations stack, thin form factor & lightness. We believe merging them closer together will soon open new market opportunities.
What are the next step concerning this development?
We build several demonstrator concepts in the last months and are now working on a new FLEX low power kit, where several sizes of PV cells and display types can be used.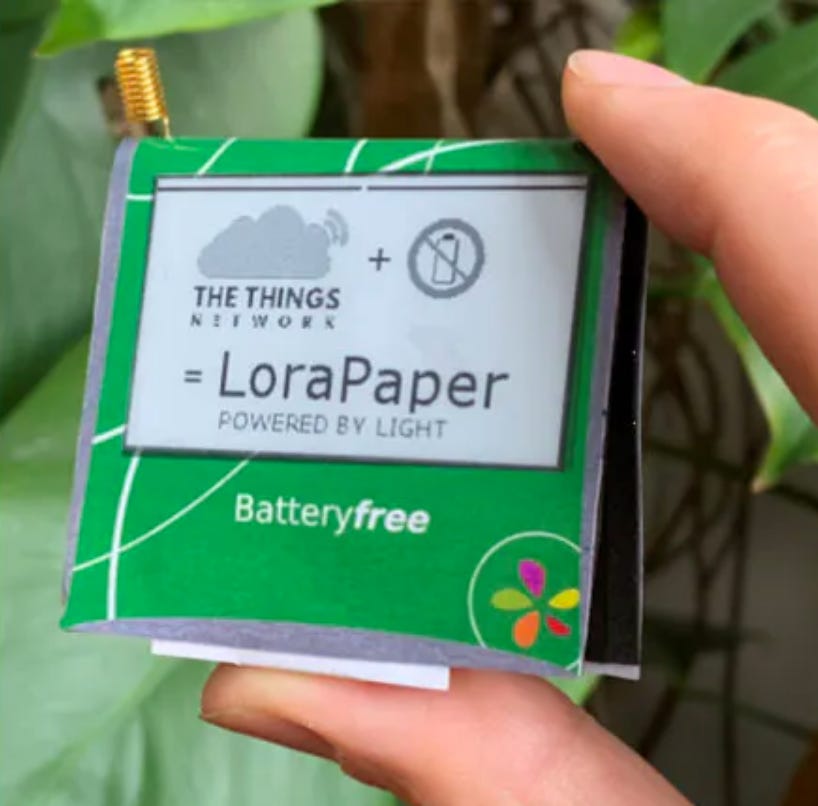 Robert has designed an e-Paper Device That Runs Entirely on Light with Lora. No batteries required to build this self-sufficient weather station.
📅 (non-physical) EVENTS WHERE YOU SHOULD GO THIS MONTH
Obviously, no big event will take place this month but we identify some nice webinars or podcast episodes.
If you are interesting in smart home applications, Domadoo has launched Smart Home Academy a podcast concerning home automation. Available on Spotify, Apple Podcast, Google podcast… [Content in french].

ARMOR, a french company which is using roll to roll technique to manufacture OPV cells for large area application, realised a webinar related to OPV in the Smart City and Mobility. [Content in french].

We are regularly speaking about energy in this newsletter, another hot topic for IoT is the security. Eye on Tech, shared a webinar on The Future of IoT Security
👋 If you want to get in touch with me or someone of my team : contact@dracula-technologies.com
Take care !
Sadok
---
If someone invited you to discover my newsletter, you can subsribe just below.
---